About Me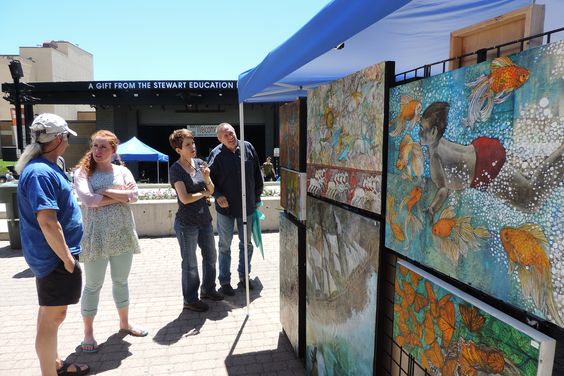 What completes each painting is its audience.
      At an art festival this past summer, two collectors in particular stood out to me.  A therapist fell in love with a piece that would be the perfect scene of serenity for her office.  Later that day, a mother found a piece that would be a whimsical addition to her baby's nursery.  I realized then how much of the experiences and emotions I have while making the pieces transfers to those who see them.  What completes each painting is its audience.  I love sharing my work–watching it offer a respite, allow for a moment of thought, awaken inspiration, or just provide a savory moment of color and texture.  Color, as well as content, can effect mood, and each work evokes an emotion, whether it be serene, playful, energetic, or melancholy.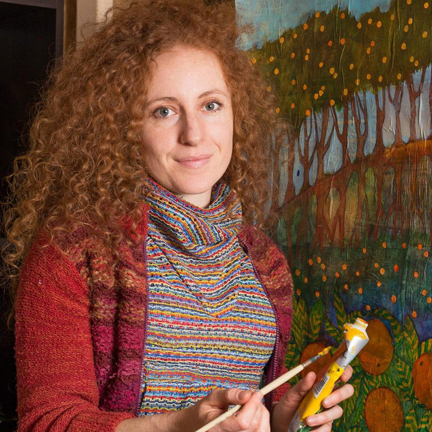 How are they made?  They begin with an altered layer of National Geographic pages. I use brillo pads to remove the glossy surface and create a latticework of scratches in the paper for texture and use a solvent made from citrus oil to melt and rework the ink.  I then adhere the pages to a wooden panel, and then I have a lovely canvas saturated in hues and depth.  Upon this base, I begin adding layers of drawings made with charcoal and ink, depending on the patterns or figures I am adding.  Next I use water-based paint (acrylic) for of the levels of transparency and opacity I can achieve.  My goal is to find a balance between the original color and texture from the pages and the layers of medium I add to them.
     I've shown both locally and nationally, as well as sold internationally.  For a look at my accomplishments here is my c.v.