Peacocks and Hieroglyphs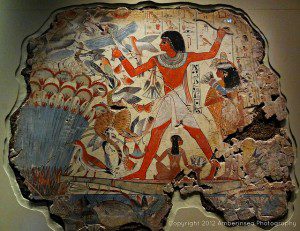 I've always had a fascination with hieroglyphs.  Perhaps it's the way they connect to a long-gone society that all we have to guess at is what they've left behind.  Once my brother bought a book that taught you how to decipher hieroglyphs; it was an exciting thought, but I honestly liked them better as a mystery.   The paintings and relief sculptures intrigue me the most–they've capture the entirety of a culture with all its religious, political, and mundane features in a two-dimensional masterpiece.  It's what we artists try to do every day.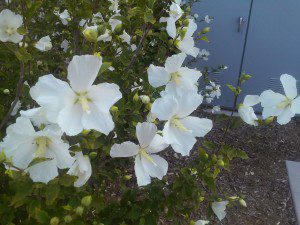 My goal leans towards making hieroglyphs of my own that perhaps someone down the line will be able to guess at.  So we'll start with a big part of my life.  I work at the Food and Care Coalition.  It's very fulfilling helping people who've fallen on hard times, which is probably why I've been there for so long.  We've recently opened the transitional housing units aimed at getting individuals off the streets and into jobs and homes of their own.  These lovely flowers hang out right next to the two big dumpsters out back of the facility.  I've made that walk too many times to count, but these flowers by the garbage create a great parallel that encompasses this great place.  The poor can sometimes become a curse word or an eye sore that a community wants to be gone.  There can be extensive complaints about tax money going to welfare, or about people bringing about their own misery, and believe me, sometimes I can be the worst critic after a long day of enforcing rules against rough manners.  Luckily, I've been reminded time and time again about the beauty that comes from this population.  They are humble, and each has a story.  Those who volunteer time and means do it with very little recognition.  They come with open hearts.  There is so much gratitude to go around–every day I witness a sanctification process amidst mashed potatoes, and with any kind of fortune, both of those things rub off on me and my apron.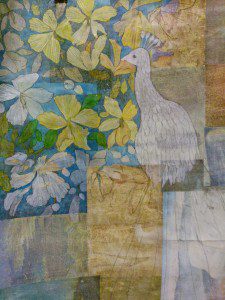 Those flowers, along with the peacock, allowed me to study using white in my work.  It's something I've avoided up until now, and this color is allowing new levels of contrast.  It acts as an undercoating for the flowers, allowing the orange and white to glow and compete with the underlying blue tones.  The peacock is one of the rare times I've just used straight white to such a large degree.  The white spindly feathers in the tail lend structure to the textured ground underneath.
What does the final product say?  It can be taken as a commentary on one of my virtue/vices that I recently went head-to-head on.  I often feel like this peacock:  gazing longingly at lovely blossoms while a hunter scatters a flock right behind my back.  My search for truth and beauty can sometimes make it hard to face the not-so-beautiful realities.  Lately, I'm learning to let the truth guide me through the unpleasantries, and I notice that it's during these times when the truth is defined with the most clarity.